With the Festive Season done and dusted, Sardinia Bay Golf & Wildlife Estate in Gqeberha is proving to be the gift that keeps on giving.
New residents Christine and Alan Percy admit that they have received in abundance since relocating from their Glendinngvale home five months earlier.
Having lived in upmarket suburbia for the better part of 25 years, Christine felt that the gated community would provide peace of mind while gifting them a more relaxed way of life.
"What caught our interest was being able to walk on a massive piece of property and feel safe and secure while doing so," she explains.
"Security has been the major impressive thing that all my friends have noticed. You feel so safe.
"Whether or not I'm there on my own or not, I always look forward to having my doors open and enjoying the feeling of living without fear."
Security guards are on duty 24/7 and residents can also count on access control, CCTV, perimeter fencing and security zones in their annual Christmas stocking.
Those prone to leisurely strolls, jogs or cycles can explore several trails that criss-cross the 100-hectare estate. Then there is the wildlife, which adds to a safari-inspired lifestyle.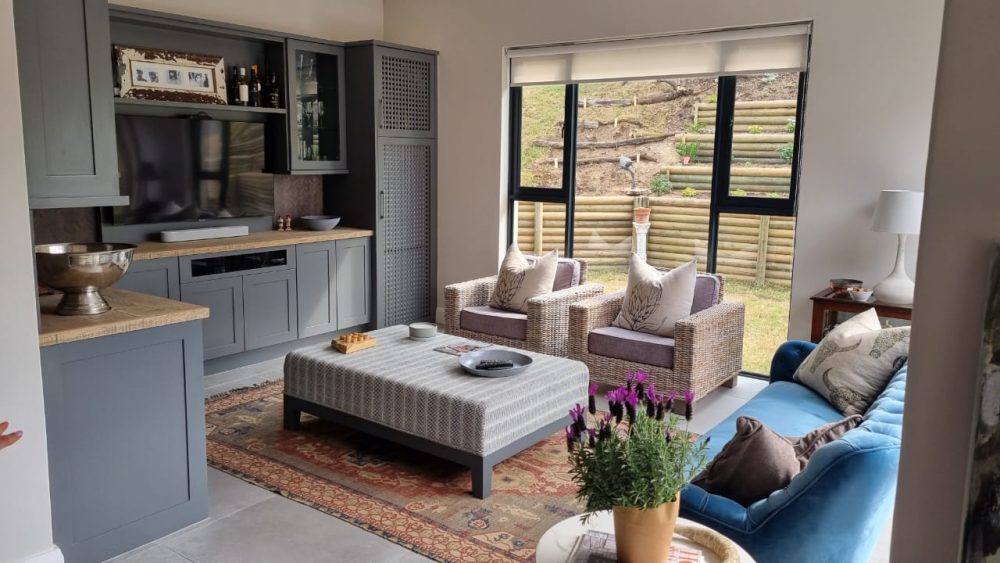 "The fact that I can have springbok and zebra in my front garden is just amazing – that was an absolute buy-in for me," admits Christine.
The wildlife community – comprising bushbuck, springbok, zebra, duiker, blesbok, mountain reedbuck and impala – seamlessly merges into daily life on the estate.
Another "gift" worth celebrating is the beaut of a golf course that snakes through the estate, giving large portions a park-like feel alongside the more rugged-looking natural vegetation.
"My husband is a golfer so being right on the golf course is wonderful," says Christine.
Two tees at each of the nine holes provide a varying challenge, with 64 shots being par for this course.
With an open deck overlooking the fairways, the clubhouse offers residents and club members refreshments and light meals in a "festive" setting.
An immaculate tennis court serves up great fun for those looking to improve their backhands, or just to enjoy a casual hit-out.
"My son will be visiting from London and can't wait to see our new home and use the tennis court," says Christine.
A functional, family-friendly recreation centre houses a communal braai area, swimming pool, playground for kids, dog park and other treats.
With Sardinia Bay beach all but an extension of the estate property, the Percy-clan have been dipping their toes in the waters while also catching the odd wave.
This marine-protected coastal area and city landmark is three minute away. Impressive sand dunes guard the ocean and provide views for miles – a popular setting for picnics and sundowners.
Those looking to work off some Christmas calories, can walk the historical Sacramento Trail – an 8km roundtrip next to a stunningly beautiful rocky shoreline with a bustling restaurant and other mobile refreshment offerings halfway.
Estate homes are designed to provide an indoor-outdoor living experience, enabling residents to welcome the sights and sounds of nature into their homes – whatever the season.