The Sardinia Bay Golf & Wildlife Estate proves that there's so much more to an indigenous garden than just succulents and spekboom.
Situated in the Sardinia Bay Nature Reserve in Gqeberha, the 100ha lifestyle estate forms part of 320ha of protected coastal forest thicket.
Its location in a conservation area, combined with its reputation as an eco-friendly community, requires the estate and its residents to abide by strict vegetation rules.
As per the directive from the Eastern Cape Department of Economic Development and Environmental Affairs – and reinforced by the estate's own rules – only plants that occur naturally in the Sardinia Bay area may be grown to protect and nurture the region's natural heritage.
Jane Robertson is a resident who moved from Johannesburg six years ago.
"In the highveld, there's no wind and no shortage of water, making it a gardener's paradise", she says.
But when she moved to the Eastern Cape, she learnt that conditions were vastly different from the subtropical climate of her home city. However, that did not stop her from sprouting a passion for indigenous plants.
Now warmly known as the estate's resident "botanist", Jane is eager to assist neighbours with the dos and don'ts of growing an environmentally friendly garden – and for good reason.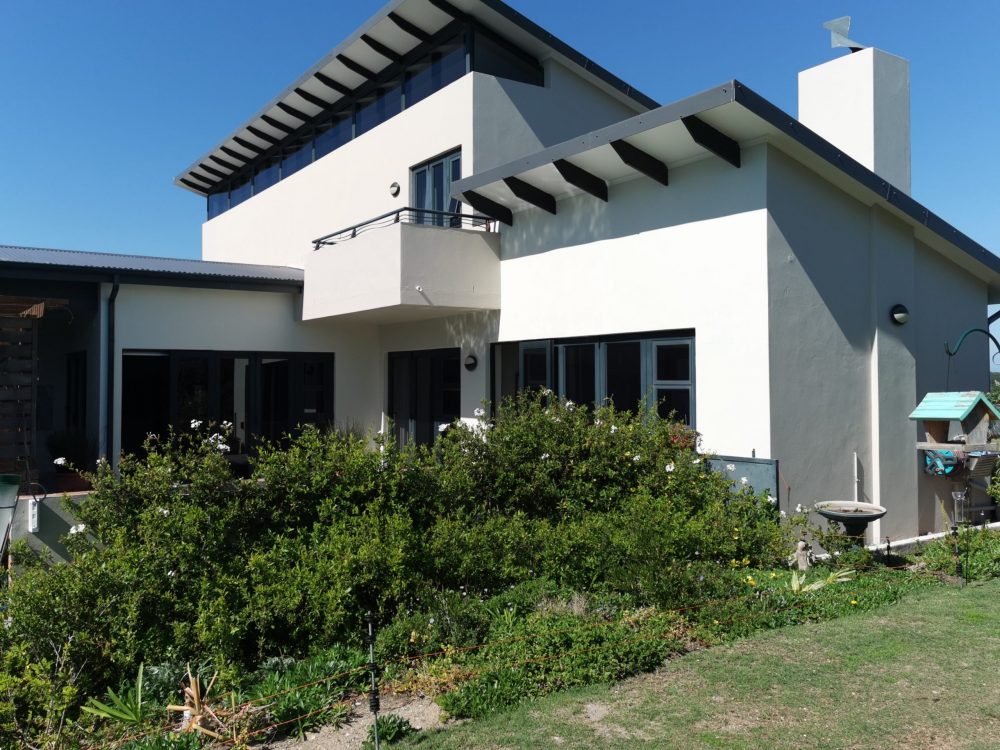 "Invasive plants absorb a lot of water and make conditions for indigenous plants difficult. They steal their sunlight, remove the goodness from the soil and can take over huge areas of land."
She says certain alien species also pose a significant fire risk. Rooikrans, for example, is regarded as a serious hazard as it burns hotter and longer than indigenous plants, accelerating the spread of wildfires.
Although residents may plant exotic plants in pots, their seeds must be harvested before they are pollinated by the wind, says Jane.
"Indigenous plants do so well here. You don't need to beg them to grow; they cope well and are fairly drought and wind resistant."
She says residents also need to consider planting flowers and shrubs that the free-roaming springbok, impala and other wildlife do not find too appetising. The menu includes a comprehensive list of 900 estate-friendly plants.
A chip and a putt down the road lives Nina Robertson, another of the estate's green-fingered "ambassadors".
She has a passion for landscaping and, together with her interest in macro photography, creates and captures nature's wonders in beautiful detail.
"When we sold our property of 35 years and moved to the estate my husband and I started traveling and we took up birdwatching as a hobby.
"That evolved into nature photography and now I photograph mostly birds, butterflies and bees."
Nina's bird and bee-friendly garden is home to healthy Cape honeysuckle, an indigenous shrub with flaming red and orange nectar-rich flowers. It occurs naturally along the western and eastern coast and can tolerate a lack of water, she explains.
Also blossoming in her garden is the September bush, identified by its purple to white flowers. The evergreen plant has non-invasive roots and is best suited to coastal gardens.
Agapanthus, wood iris and plumbago bush are just a few of the other home-grown species which add softness and colour to Nina's garden.
"The beauty of an indigenous garden is that it's low maintenance. Plants that grow naturally in the region are already acclimatised to local weather and soil conditions."