The Covid-19 pandemic has forced businesses to rethink the way they operate, offering people the opportunity to work beyond the confines of an office.
According to a recent survey conducted by recruitment specialists the PageGroup, only 26 per cent of South African participants had the option to work from home before the pandemic.
Now, almost 80 per cent of those respondents say they work remotely as the work-from-home phenomenon is embraced by corporates to the advantage of the bottom line.
With quick access to the city and high-speed fibre connectivity, Alan Moore of Re/Max Independent Properties says Sardinia Bay Golf & Wildlife Estate gives residents the option – and infrastructure – to pursue their careers from the comfort of their home.
"The developers and estate have made a huge investment in a state-of-the-art optic fibre communications system, giving each home instant access to high-speed internet."
Architects, he says, are also considering the new home environment with their clients and most houses now have clever study nooks and workspace options, as well as great home entertainment spaces.
For those looking to merge top professional performance with a laidback lifestyle, the Port Elizabeth estate offers residents a secure working environment with benefits such as viewing free-roaming wildlife or enjoying a quick round of golf between virtual meetings.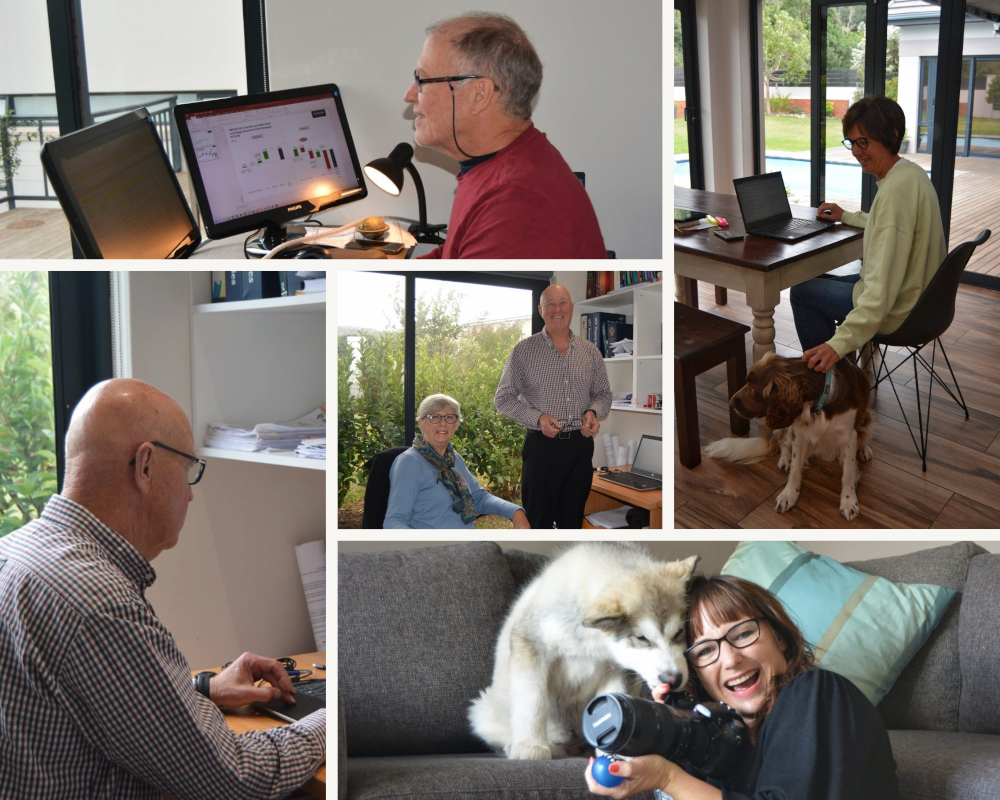 Photographer Donna Watson has been a resident for two-and-a-half years after moving to the estate from a smallholding. The community's security features, rustic charm and down-to-earth feel attracted her to the property.
She spends many hours editing in her study and enjoys the freedom that a work-from-home lifestyle offers her. Between early morning and late afternoon editing sessions, she enjoys walking her 14-week-old pup twice a day around the estate and attending gym just a few minutes away in the city.
Cecile and André du Preez moved to the estate from their Mill Park home 11 months ago and have been working remotely ever since.
"Being able to watch springbok and see green fields from my window while I'm working is what makes living here so special," says André.
Once the workday ends, the couple exercise by walking the 5km-long estate perimeter with their dog and appreciate how safe it is to do so.
Graham and Liz Boyd are among the first residents to have purchased in the estate five years ago. The self-employed couple had a self-contained office space added on to their home during the building phase.
Between her admin tasks, Liz enjoys tending her veggie garden and visiting the neighbouring farm stall for lunch.
For Graham, it's watching a zebra pass by while chatting to a colleague that makes working from home such a pleasure.
"The peace and quiet is conducive to our operations and the fact that the estate has 24-hour security allows you to focus on what's important," says Liz.
In real terms, working from the estate is nothing but remote – at just five minutes away from town, one can visit shops or grab groceries for dinner between work commitments.
The estate is ideal for those looking for a pleasant work-from-home environment – one that is not a cramped corner desk in a guest bedroom or dingy back-office setup, but rather a luxurious executive-styled space that overlooks an indigenous landscape close to the ocean.