Meandering through the garden of Karen and Ross Flood, it's hard to believe that this property on Sardinia Bay Golf & Wildlife Estate in Gqeberha was barren land just two-and-a-half years ago.
The couple, downscaling from their large family residence in Summerstrand, took occupation in September 2019.
Karen is a renowned artist known for her spectacular paintings of birds and vivid use of colour. But her creativity isn't limited to her artwork – her garden is a masterpiece filled with fynbos and a variety of indigenous blooms.
"As an artist, this garden is a canvas – a living, evolving canvas that requires constant repainting all the time," she says.
The couple's garden, which Karen describes as one of her "mediums", attracts an array of birds that keep these avid birdwatchers enthralled.
Gigantic easels and canvasses are displayed in the large open-plan living area as Karen prepares for an exhibition in St Francis Bay.
"I work on huge canvasses and sometimes more than one at the same time. This space lends itself to that."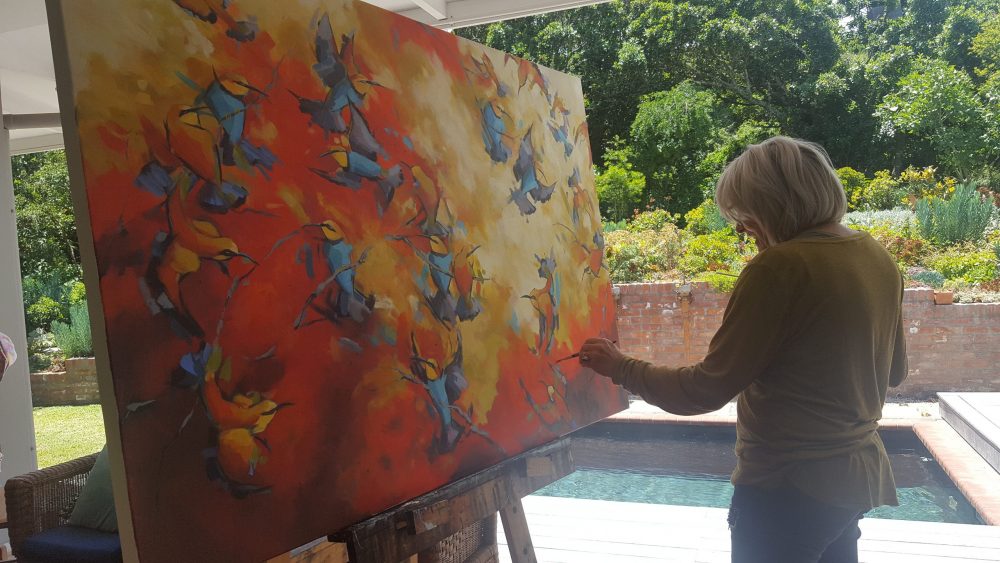 Stacker doors lead out onto a wide wooden deck overlooking the raised garden and sparkling swimming pool. From this vantage point, Karen can observe her garden and watch as a regular visitor, Monty the mongoose, explores the nooks and crannies of her terraced backyard.
Karen and Ross are both passionate about the environment and reducing their carbon footprint.
They adopted several earth-friendly practices in their home such as the installation of solar panels, rainwater tanks and the planting of spekboom.
"We've also planted about 50 trees to bring the canopy of the bush closer," explains Ross. "When we built the house, we put a lot of effort into having the least possible impact on the surrounds, particularly the trees."
In fact, architects Theresa and Mark Hardman redesigned the studio and en suite bathroom to ensure that the adjacent Milkwood trees would not be impacted by construction.
Ross has also undertaken a project to reforest the land on which the estate was developed – an area which previously had been stripped of its natural vegetation for farming purposes.
After collecting the seeds of indigenous trees and sowing them in trays, Ross replants the young trees in the estate's vegetable eco-tunnel, which now serves as an incubator for approximately 500 trees.
"We have a wonderful environmental team on the estate that has so much knowledge," says Karen.
The couple love to travel and often retreat to the Kruger National Park. This is where Karen finds inspiration for her sought-after paintings.
"I paint what I see. Nature provides the artwork."
Karen and Ross's home is set to appear in the Home magazine next year in a feature dedicated to superior indoor-outdoor living spaces.