As part of its ecological focus, Sardinia Bay Golf & Wildlife Estate is buzzing about a project it's implemented to boost the bee population in the area.
In recent years, there has been a substantial decline in bee numbers because of climate change, increased use of pesticides and removal of land for construction purposes.
Bees in South Africa are critical for the pollination of over 40 different crops and are therefore essential to our survival.
In collaboration with Sarah Smith from Gqeberha-based hive service Uniquely Bee, the estate has introduced eight hives that currently house approximately 20 000 bees.
According to Hugh Wiblin, estate maintenance supervisor, the population will eventually grow to around 80 000 as more hives are added, including those owned by residents.
To ensure everyone's safety, the hives have been placed far from the residential properties in a fenced-off area and signage has been erected to ensure that those passing by exercise caution.
"Swarms are very small at this time of the year but, by the time summer comes, the swarm will grow so big that it will split," explains Wiblin. "Sixty per cent will go off with a new queen bee, while the leftover ones will make their hive bigger again for the new season."
As to whether there has been a noticeable change since the introduction of hives, Wiblin says residents have been informing him since mid-July that they've been seeing bees around their homes.
"There weren't any around before," he confirms.
"By bringing bees in, there will be many positive spinoffs for the environment, including better pollination and vegetation growth."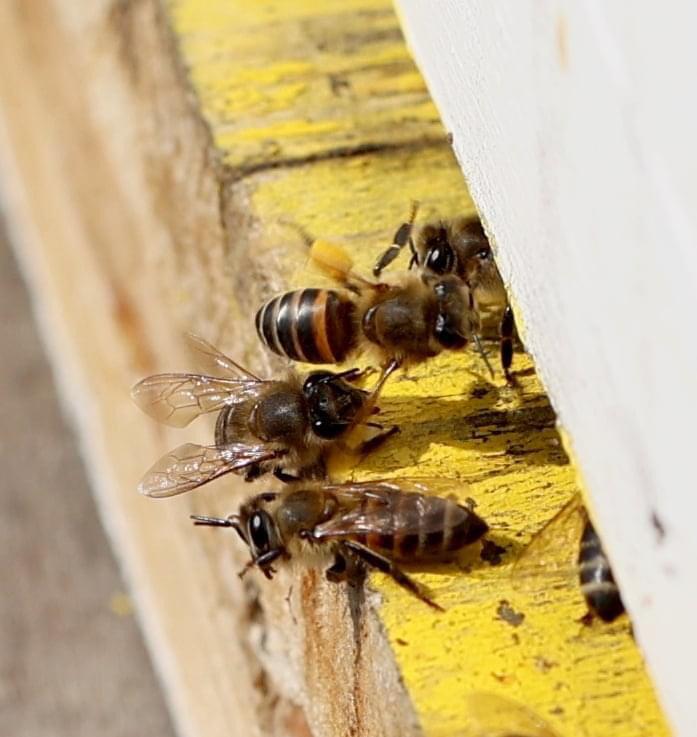 Residents with experience in beekeeping have been given the go-ahead to build and maintain their own hives. Sue Hoffman, who has been keeping bees for the past decade having learnt the craft from her late father-in-law, is one such person.
"He kept bees on my smallholding and had begun teaching my daughter who then left for the UK. Her suit and equipment were left behind and so one day I asked my German pa to take me with him and see what it was all about.
"He had 40 years of experience and was a gracious, calm teacher and instilled a love for them in me. We worked together until his early 80s."
When all the hives are fully set up, they will be able to produce between 20 and 25kg of honey per year.
Uniquely Bee will harvest honey twice between September and April, depending on how good the season has been.
"Ten per cent of the honey will be kept by the estate and sold at the clubhouse with the proceeds going to the wildlife maintenance fund," says Wiblin.
Hoffman says it is important to have bees on such a large estate and gave the repopulation project a thumbs-up.
"Until now, there has not been much sign of bee activity at all. I'm thrilled that Sarah and I are able to home bees safely for their wellbeing and the pollination of all residents' gardens and our protected forest."
According to her, there are some misconceptions about beekeeping.
"Folks think beekeeping is easy and the returns are immediate. The reality is that it's a labour-intensive job and it takes a season for a swarm to establish themselves to produce enough honey for them and us.
"As for the drawbacks," Hoffman says that despite wearing protective gear, "nothing stops a bee from finding its way to sting you and sometimes in the most awkward places!"
Because the honey yield is greatly dependant on the number of flowers in the area, residents are encouraged to plant bee-friendly indigenous plants such as aloes, clivias and vygies, all of which have pollen-rich flowers.
They are also required to use natural pest control solutions.