As part of its environmental management programme, Sardinia Bay Golf & Wildlife Estate plans to use recycled water on the golf course once the 21-day national coronavirus lockdown has been lifted.
"It's very important for the estate to look after the environment," says estate supervisor Hugh Wiblin. "We are fighting continuously to improve whatever systems are in place."
He says the project has been in the pipeline for a while and they cannot wait to get started.
"At the moment we are watering the golf course with borehole water but, once the new system and tanks are installed, we will be using recycled water from the ponds."
The 13 man-made ponds on the estate are connected to the onsite water treatment plant, he explained. Sewage water in the plant is treated, recycled and pumped to the ponds after being made safe for animals to drink.
Two 5 000-litre tanks will be installed to store overflow water from the ponds and this will be used to irrigate the golf course.
"The main change is going to be where the sprinklers will be getting their water from; instead of the boreholes, it will come directly from the tanks."
Wiblin says the reclaimed water is very high in nutrients, which will be good for the golf course.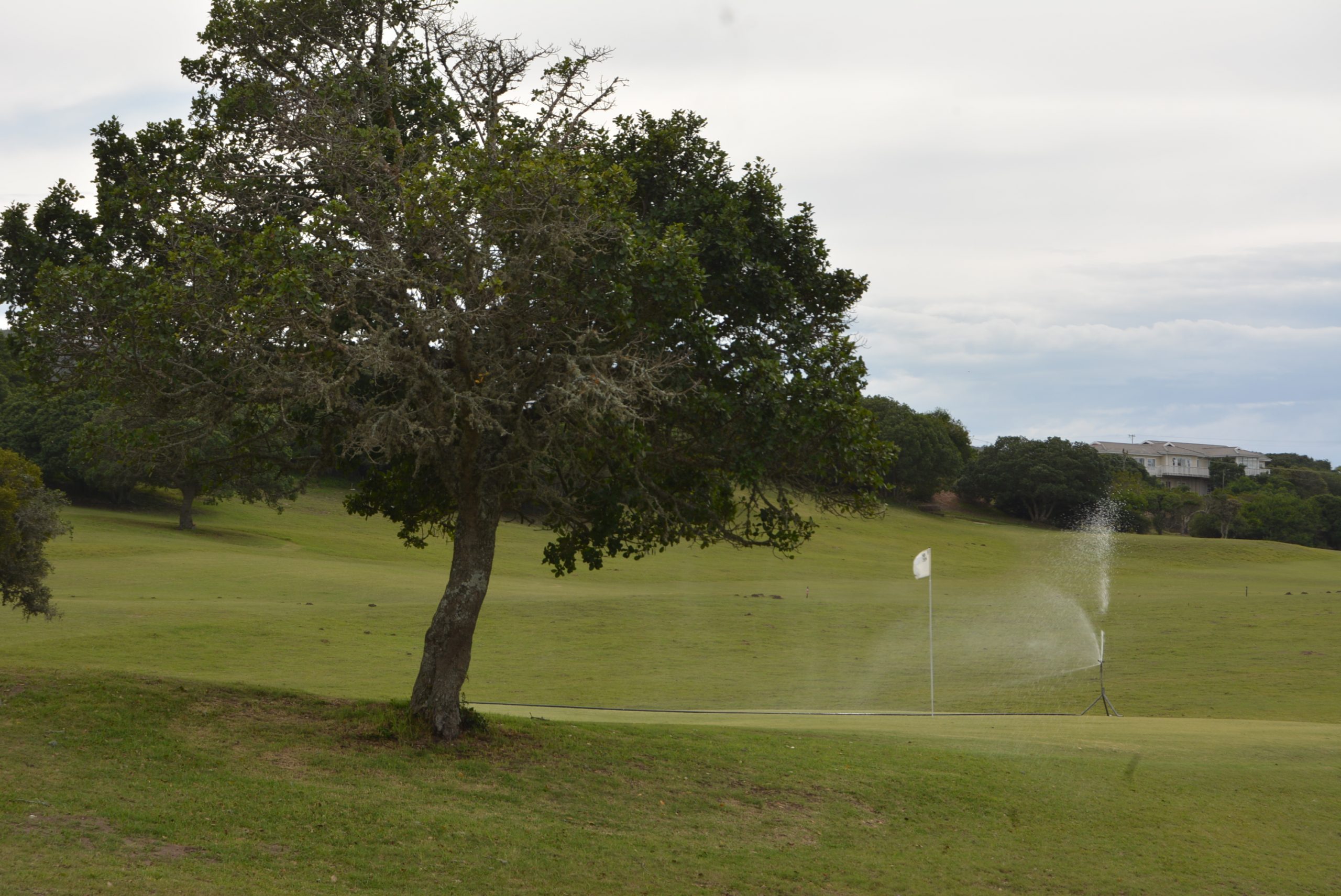 The layout and design of the new irrigation system is spearheaded by golf club manager Johan Barnard, who is a lecturer in water engineering at Nelson Mandela University.
"Johan believes that there are a lot more nutrients in the water that comes from the recycling plant than that sourced from the borehole. Apparently, the borehole water is quite salty, which is not good for the greens."
The tee boxes and greens are the only parts of the course that are watered and this is done once a week to ensure that as little water as possible is used.
The installation of the tanks and fitment of the piping should take about 10 days as most of the piping was installed when the recycling plant was connected to the ponds.
Apart from a "little bit of digging", a few fittings and valves must be added to the system to shut off different sections so that water can be diverted to specific areas.
"The tanks are going to be fixed on a concrete slab, similar to how one would install tanks at home, and they will be hidden away in the bush so that they are not visible," explains Wiblin.
"The system is very quiet so the peace of the residents will not be disturbed."