Avid birdwatchers Ian and Nina Robertson, a retired couple, have taken great delight in pursuing their hobby since settling into their Sardinia Bay Golf & Wildlife Estate home four years ago.
"When we moved into the Sardinia Bay estate, we were looking for a new hobby and my wife Nina suggested we try birdwatching," says Ian. "We both grew up on farms and know the basics of birds in this part of the country and that's how it started."
On top of owning a pharmacy in Port Elizabeth, they bred thoroughbred racehorses for two decades at nearby Milkwood Stud.
"We lived next to the estate for 34 years. After we sold the house, we needed a new place in a hurry and the houses in Sardinia Bay estate had just entered the market," he explains.
"I have to say that moving here is the best move we have ever made; it's a fantastic place to live."
Ian and Nina have travelled extensively in their quest to spot as many interesting and new species as possible.
"We have been to Madagascar, Ethiopia, Ghana and birded the whole of Botswana and Namibia. Even though we haven't been birding for long, we have seen a heck of a lot of birds."
He says there are people – known as twitchers within the birding community – who take their birdwatching very seriously. They will literally hop on a plane to see a rare bird if it has been spotted anywhere in Southern Africa.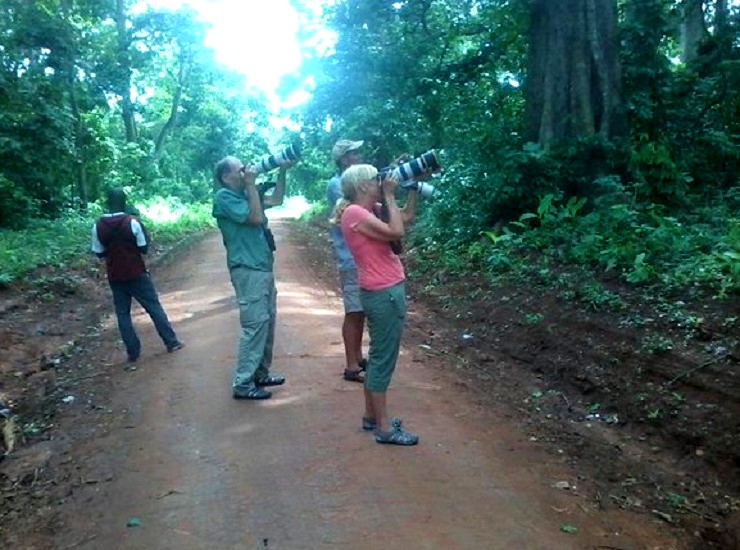 "Some people just like to tick birds off their list. Others go as far as to study their habits and nesting and are quite scientific about it."
According to Ian, living on the estate with birds literally on their doorstep has enabled them to enjoy their hobby to the full.
"Since we moved here, we have seen a few new bird species show up. We have a list and I think so far we have seen 109 species either flying over or moving around on the estate."
Earlier this year, Ian invited well-known PE birder Andy Nickson to lead a walk-around on the estate.
"We ended up with a big crowd and even the non-birders enjoyed it. We pointed out every bird we saw, the sounds they made and it was all very interesting and fun.
He says roughly 10 per cent of the 100-hectare estate is made up of housing with the balance consisting of the golf course and natural bush and therefore "you can walk anywhere and find birds".
The 13 man-made ponds have become a natural habitat for water species and Ian says they have spotted a lot more in recent times.
"I must say that the estate manager is doing a wonderful job developing the ponds, which are encouraging a lot of new birds to come here.
"It's really easy to spot the water birds now because you can always see them swimming on the water or wandering along the sides of the ponds."